2PM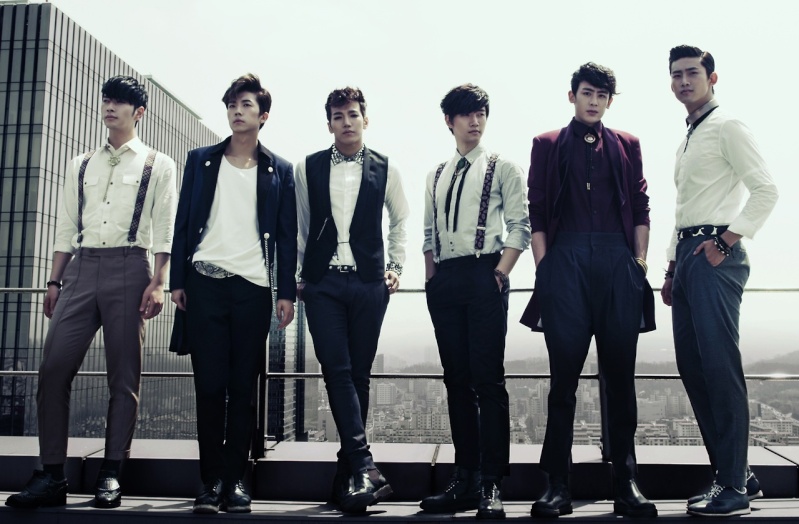 Nom de l'artiste:
2PM
Genre musical :
K-POP, pop, dance, rap
Présentation du groupe
2PM (투피엠) est un boysband sud-coréen composé de 6 membres, formé en 2008 par la JYP Entertainment, l'une des trois maisons de production les plus importantes de Corée.
Les 2PM ont toujours étés reconnus pour leurs talents exceptionnels en danse et pour leurs chorégraphies uniques et impressionnantes. Mais leurs talents ne s'arrêtent pas là. Qu'ils soient chanteurs ou rappeurs, ils excellent dans leur domaine. Certains d'entre eux sont même acteurs et animateurs d'émissions TV. Depuis leurs débuts, 2PM s'efforce de suivre un style de musique HipHop et Pop.
Aujourd'hui, 2PM est l'un des groupes coréens le plus apprécié de la Corée et il répend la wave Hottest partout en Asie (Japon, Thailande, Chine, Philippines, Malaisie, Singapore et Indonésie essentiellement).
2PM est, à la base, l'un des sous-groupes du groupe One Day. L'autre étant le groupe 2AM. 2PM a fait ses débuts officiels le 4 septembre 2008 avec le mini album 'Hottest Time Of The Day' et la chanson titre '10 Out Of 10'.
Les fans de 2PM se nomment 'Hottest'. La couleur officielle du groupe est le gris métallique.
Source: Nautiljon
Membres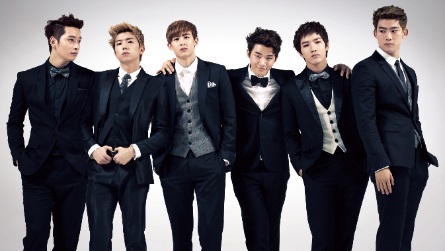 de gauche à droite: Hwang Chansung, Jang Wooyoung, Horvejkul Nichkhun, Lee Junho, Jun K., Ok Taecyeon
Discographie (coréenne)
Hottest Time of the Day - 2008

1. 10 Points Out Of 10
2. Only You
3. Angel
4. 10 Points Out Of 10 (Old School Ver.)
5. 10 Points Out Of 10 (Inst.)
6. Only You (Inst.)
01 : 59 PM - 2009

1. My Heart
2. Heartbeat
3. Tired Of Waiting
4. I Was Crazy About You
5. Gimme The Light
6. Back 2U
7. All Night Long
8. Heartbeat (Red Light Mix)
9. 10 points out of 10
10. Only You (Acoustic Mix)
11. Again & Again
12.  Hate You (Lounge Mix)
13. You Might Come Back (Bossa Nova Mix)
Still 02:00 PM - 2010

1. Still
2. I'll Be Back
3. Even If You Leave Me
4. I Can't
5. I Know
6. Dance Tonight
7. I'll Be Back (Club Remix)
Hands Up - 2011

1. Hands Up
2. Electricity
3. Give It To Me
4. Like A Movie
5. Don't You Know
6. Hot
7. Without U
8. I'll Be Back
9. I Can't
10. Hands Up (East4A Mix)
11. Electricity (220v Remix)
12. Thank You
13. Don't Stop Can't Stop
14. Hands Up (Clean Ver.)
GROWN - 2013

1. All Day I Think of You
2. Come Back When You Hear This Song
3. Back to Square One
4. I'm Sorry
5. Today Marks the 1st Day
6. Dangerous
7. Just For Today
8. Game Over
9. Coming Down
10. Go Back
11. Love Song
12. Suddenly
Go CRAZY - 2014

1. GO CRAZY!
2. Like Tonight
3. She's Ma Girl
4. Mine
5. Awesome!
6. Rain Is Falling
7. Boyfriend
8. Pull & Pull
9. Farewell Trip
10. Beautiful (Kor Ver.)
11. I'm Your Man (Kor Ver.)
NO.5 - 2015

1. My House
2. Nobody Else
3. Hallucination
4. Your Man
5. You're Hotter Than Summer
6. I'm Going Crazy
7. RED
8. Wanna Love You Again
9. Know Your Mind
10. Magic
11. Jump
12. Good Man
Discographie (japonaise)
Republic of 2PM - 2011

1. I'm Your Man
2. Ultra Lover
3. I'll Be Back -jap ver.-
4. Stay With Me
5. Without U -jap ver.-
6. Crazy In Love
7. 100th Day Anniversary
8. Take Off
9. Hands Up -jap ver.-
10. Destiny
11. HeartBeat -jap ver.-
12. Even if We're Apart
Legend of 2PM - 2013

1. The Legend
2. Masquerade (Album ver.)
3. Beautiful
4. So Bad
5. ONLY ONE
6. Missing You
7. Want you back
8. This Is Love
9. Kimi ga Ireba
10. I'll Be OK
11. SOS Man
12. Breakthrough
13. Forever
Genesis of 2PM - 2014

1. GENESIS
2. GIVE ME LOVE
3. Merry-go-round
4. Winter Games
5. Eien~Lasting heart~
6. Step by Step
7. Falling in love
8. BEAT OF LOVE
9. Only Girl
10. I want you
11. Stay Here
12. NEXT Generation
13. Beautiful Day
2PM of 2PM - 2015

1. Intro
2. Go Crazy (jap ver)
3. Guilty Love
4. Sexy Ladies
5. Everybody
6. Fight
7. THROUGH THE FIRE
8. Jam Session
9. Slender Man
10. Shiny Girl
11. 365
12. Burning Love
13. Harukaze ~Good-bye Again~

Mon avis
Je ne pense pas vraiment être en mesure d'être objective lorsqu'il s'agit de
2PM
. Pour cause, ce groupe est celui qui m'aura fait entrer dans la K-POP ! J'y ai alors découvert tout un pays, toute une culture, et surtout, un genre musical dont je ne peux désormais plus me passer. Pour faire court,
2PM
est un excellent groupe, plein de bonnes chansons pop et de dynamisme. Difficile de déprimer avec leurs titres ! J'ajouterais qu'il serait dommage de se limiter à leur discographie coréenne, puisque celle japonaise est également de qualité.
Comme très souvent dans ce type de groupes, les membres excellent dans plusieurs domaines : chant bien sur, mais aussi dance, jeu d'acteur, sport... C'est surtout leur émission, le
2PM Show
, qui m'a vraiment fait me rendre compte de tout leur talent (et leur humour), aussi, si vous souhaitez apprendre à mieux les connaître, je conseille vraiment cette émission, ainsi que les
Real 2PM
, disponibles sur la chaîne officielle du groupe. Désormais, je suis bien incapable de savoir quel membre à mes préférences, ils sont tous attachants à leur manière.
Extraits
Conclusion
2PM est un très bon groupe. Il parvient à se distinguer des autres groupes grâce aux talents multiples de ses membres et ses titres diversifiés et entraînants. Je conseille même aux plus réticents de la vague K-POP !